---
Chris Dempsey (10-2) is slated to take on Eddie Gordon (7-2) this weekend in Newark, New Jersey – which kinda feels like a fight in itself- on the UFC on Fox 15 event. Here are the top 5 things you need to know:
Gordon is tough as shit
I don't know if you bros did your homework on Eddie "The Truck" Gordon, but if you watched the Ultimate Fighter (which I didn't) you will note that this guy doesn't play any games. Hailing from the now famed Serra Longo camp Gordon is not a traditional mixed martial artist persay but more of a guy who can scrap very well. He hits hard and uses the right techniques at the right time along with other little improvisations during the scrambles like throwing guys face first into the cage and whatnot. Is he the next guy to rule the division? Probably not but he is a serious threat, unless of course you kick his head off like Josh Samman did in his last outing.
Dempsey has been working diligently on improving
Word on the street and well, Facebook stuff has lead me to believe that Chris Dempsey has been working tirelessly on improving his game. Dempsey's biggest issue to date is that he was too one dimensional; however that one dimension -a stifling wrestling game with heavy top control- is what brought him to the dance and if nothing else it is arguably the best attribute above all else. The issue is when he ran into someone with a higher wrestling pedigree who was able to shrug off his typically effective attacks. Thus forcing the need to learn and improve, this is not to say he wasn't preparing correctly before, but a stoppage loss is usually the best motivation to kick things up to the next level. From all accounts I have been hearing that we will see a new and improved version of Chris on Saturday. Execution is paramount here but he has a great group of coaches and teammates who know how to prepare him accordingly.
Check out the rest after the jump:
NYS Grappling Championship May 2nd:
Where Champions Are Made!
The NYS Grappling Championship is a unique grappling event that has been running in Fredonia, NY since 2004; with competitors coming from all over the US and Canada. Norman Yonkers is the representative (promoter) for this event. This tournament has divisions for Kids, Teens, Women, Seniors (40+), Masters (30-39), and Men in both Gi and No-Gi. Gi is single elimination and No-Gi is double elimination. All 1st thru 3rd places will be awarded beautiful custom medals.
There will also be awards for all places in the kid and teen divisions. The 4, 5, and 6 year old divisions are simulated submission divisions; to provide a fun and safe event for the little ones. We will be offering a limited Sub only division this year. We have many Absolute championship divisions available: Kids, Teens, Women, Mens Gi & No-Gi Beginner, Intermediate/Advanced Light & Heavy. Another unique aspect of the NYS tournaments are the 3-2-1 rules for Beginners. Round 1 - 3 minute submission only, Round 2 - 2 minutes points or submission, Round 3 - if necessary, first takedown or standing submission. Intermediate 1st round is 4 minutes and Advanced is 6 minutes.
Many leg locks are permitted in the adult divisions, which make for a well rounded Grappler.
The tournament is on Sat, May. 2nd with the kids and teen rules meeting beginning at 10:15am with their competition beginning immediately following the rules.
The adult rules meeting will begin at 1:00pm with the competition beginning with Gi: women, seniors, masters, advanced men, intermediate men, beginner men, & novice men. The No-Gi will follow Gi in the same order. Weigh-Ins are Friday, May 1st from 7:30pm-8:30pm and Saturday morning from 8:30am-10:00am for kids and teens, and 8:30am-noon for adults.
All weigh-ins, registration and the tournament will be at Fredonia High School, 425 E. Main St, Fredonia, NY 14063. Fredonia, NY is about 2.5 hours from Pittsburgh, Cleveland and Toronto! To find out more about the tournament and to pre-register to save money off of the door rates, go to www.nys-hgc.com or call Norm at 716-679-7685.
Pinnacle FC 10
Pinnacle FC 10 features Cherico and Mazzotta in double main event May 9
Pro card features Mark Cherico, Dominic Mazzotta, Khama Worthy, Nick Browne, and more
(PRESS RELEASE) PITTSBURGH, Pa. – Pinnacle Fighting Championships is set to make its first foray into 2015, with Pinnacle FC 10 featuring a huge main event and a deeper lineup than ever before. The fight card is set to go down just outside of Pittsburgh at the Iceoplex in Canonsburg, Pennsylvania. Tickets are available at www.cagetix.com/pinnacle and range from $40-$100. The entire fight card will once again be streamed live via www.gfl.tv.
The fight card features the best that Western Pennsylvania has to offer, including multiple fighters with aspirations to be in the UFC sooner rather than later. Returning to the Pinnacle FC cage will be Mark "The Pride of Bloomfield" Cherico (7-1 / fighting out of Pittsburgh, PA), as he looks to rebound from the first loss of his career. Stepping into the Pinnacle cage for the first time will be fast-rising bantamweight star Dominic "The Honeybadger" Mazzotta (6-1 / fighting out of New Kensington, PA).
Khama "The Death Star" Worthy (7-3 / fighting out of Pittsburgh, PA) will return looking to build off of his banner 2014 year. Undefeated rising star Nick "Nyquil" Browne (3-0 / fighting out of Uniontown, PA) will also be in action, and the main card will be rounded out by the Pinnacle debut of Muay Thai star Dann Cucuta (2-1 / fighting out of Pittsburgh, PA).
Check out the rest after the break: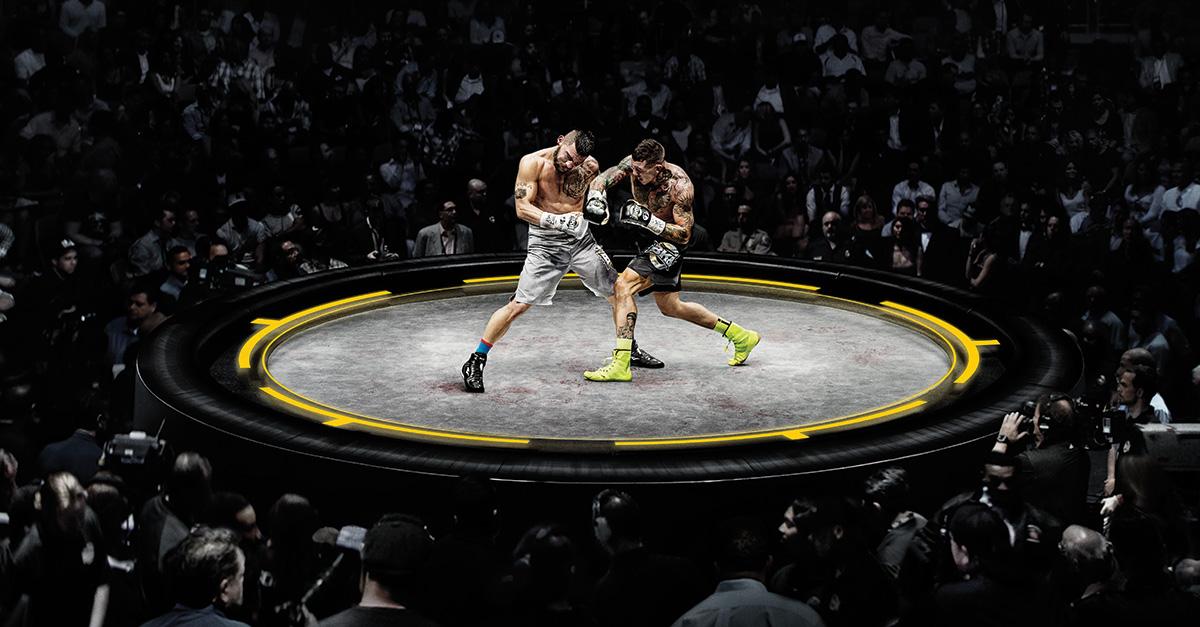 We've been in Las Vegas since Tuesday and things have been going very well. I have some updates that those of you following along at home may find very interesting.
First things first, Hutch's fight has been upgraded to the preliminary main event.
His fight will be shown for free on either the Audience channel (DirectTv 239) or prior to the pay-per-view on the channel hosting the event. Comcast area is usually 707 for high definition
On a sorta related side note: Rosado and Stevens' respective camps had to be separated during the press conference in a very real and pretty crazy moment that I won't forget for awhile. I was fortunate enough to be walking past the doors when I overheard shouting and other obvious "someone is fighting" noises coming from inside the conference room and when I entered I basically popped right into the middle of the foray.
I couldn't get my phone out in time but if they release the footage it's definitely worth checking out.
Fun times you guys.
Bill Hutchinson squares off against Herbert Acevedo this weekend at for the BKB promotion in sunny Las vegas. This event will be available on pay per view (see available listings here) and is worth every penny. Check out the top 5 reasons why you should watch Bill Hutchinson's BKB debut below:
It's fighting in a pit bros, I mean c'mon
If you don't like the idea of pit fighting, it appears that you may have stumbled upon the wrong site. With MMA losing its edge and Glory only coming around a few times a year, we need something that fills our primal violence fix and I do believe pit fighting is the answer. Picture it: Two highly trained mercenaries walk down a ramp into a small circle, that 300 years ago would be filled with sand but now is upgraded to a rubber mat and strapped with 8 ounce gloves equipped with sensors to let you know how much punishment they are absorbing?
Sure, I'm not a huge pussy so I'll go ahead and like it.
BKB is brand new and still developing stars
BKB has evolved a couple times and has found is final destination as "Big Knockout Boxing" and is drawing the consideration of main line professionals and major publications alike. Which means with some luck and the right fights, Bill could be among the series' elite. Check out this in depth look at the newest BKB "unfiltered" below:
Check out the rest after the jump: