5 Star Ring Generalship
---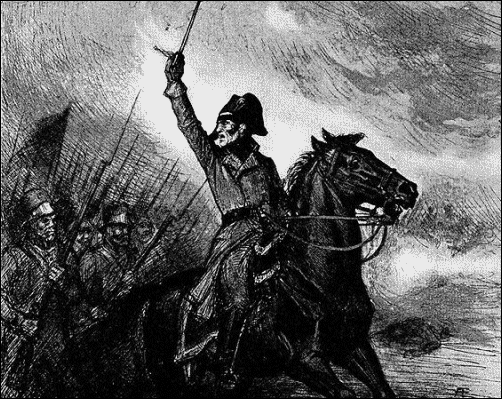 Ring generalship is simply the ability to control the ring and dictate the fight to your liking. A really good way to think of this is simply to imagine that your mind is the general, your body the troops, and the ring is the battlefield. Yes, the troops are doing physical battle but the generals are engage in a strategic stand off in trying to figure out the best way to tactically direct the troops. To be an effect ring general, you only need to keep 5 keys in mind. Do these five things and you will have the point on each star and be a true "5 Star Ring General"
Keep Your Opponent Reacting
Fundamentally speaking, counter attacking is the incorrect strategy. Yes, it has it's uses as a effective tactic, but it is fool hardy to base one's entire strategy around waiting for the enemy attack. In every fight, it the is the fighter that is able to always push pressure, attack first, and force his opponent to react his plan (not the other way around) that will hold the advantage and direct the course of battle. Seizing the initiative simply is not enough. Not only must you strike first, but you must be relentlessly aggressive. You do not wait for weaknesses to develop or opportunities to present themselves; you make them yourself. No matter what happens in a fight or what disadvantages you have, by remaining aggressive but not reckless, you will keep your opponent constantly on the defensive and this have an unbelievably demoralizing affect on him.
To continue reading this post please select read more below:
Control the Position
Every opponent has an ideal place they would like to take the fight to and this will be a key part of the their strategy. The reason why do this as fighters is obvious--this is the position from which we are strongest and feel we have the best chance to win the fight. Ideally, we'd be fantastic in all areas, but we're only human. Your goal in a fight is two fold--enact your strategy, and force the opponent out of this. That is the strategic idea. You accomplish it with superior tactics.
In boxing a key position concept is that of trapping your opponent in the corners of the ring so that they have a little space as possible to escape and are forced to meet your attacks head on. In MMA, your the best possible position to have is mount. Even though it's almost impossible to constantly be in these ideal positions the whole time, it's generally accepted that the fighter with his back closest to the ropes is in worst position and the guy that is on bottom is usually is at a disadvantage. The closer you to get the ideal strategic positions--and then remain there as long as possible once there--the better chance you stand of emerging victorious.
Control The Speed
The other pacing issue is that of speed. Speed kills, this we all know. But even more deadlier is sustained speed. The problem we encounter is the speed costs a lot of energy--energy that is needed just to finish the fight. We can't fight at full blast the whole. Instead, what we can do, is learn a trick from musicians and linguist. Everyone says that when they hear someone speak a foreign language it sounds so far, or that hearing a well played song seems like being performed fast. The reality is not that either is very fast, but that they are remarkably consistent with no lapses. Porting this idea over to fighting does not mean constantly throwing punches at a medium pace--that would use up even more energy. Instead, you should train to slightly increase your work output in the same amount of time. Eventually you will be be fight at a furious speed the likes of which your opponent will not be prepared for. In MMA the guy I think of immediately is Nate Diaz. He is the prime example of how, in theory and in application, a high pace is sustainable and how it can benefit you.
Compel Mistakes
The reason why feinting is considered a technique best left out of the repertoire of the beginner is because using them requires not just understanding of, but internalization of a very key idea in battle : Uncertainty creates opportunity. Even if the beginner were to practice feinting, what good would it do him if he is not aware of what attacks are most effective afterwards and how to execute them flawlessly? When your opponent does not know what you are going to do, they are forced to guess. Guessing is bad. Guessing is so bad, that people spend hours studying tapes of opponents to see if they can basically figure out exactly what they do. Mistakes are costly, but mistakes based on lack of information--or worse, false information--are game changers.
The beginning has trouble with the feint for the very same reason that it is so useful for experienced fighters. Predictability. If you always feint, then you are no better than if you always jab--and beginning fighters have a very hard time changing things up, if for any other reason than they just don't know how to. If you always do the same thing, then you are figured out, the fight is basically over. The best way to control your opponent is actively compel mistakes. One well placed feint to elicit a response or a decoy attack that is thrown to set up something else can end a fight quickly and soundly.
Economize
I have come to believe, from both experience and observation, that wasted motion is the single biggest reason any contest is lost. An extra step that isn't needed, power thrown into a punch that is only going to run into defense, a premature take down attempt, and countless other examples demonstrate that when you waste a move, it costs you. And it costs you big and in more than one way. You may be out of position for a well timed attack. Or maybe you can recover--after all, space is relatively easy to recover. Time, however, is not. This is crucial because very often you need to effectively use every bit of time in the fight to make your case to the judges. It's the fighting equivalent to clock management.
Then there is the energy costs. One of the worst defeats of my career, and one that I did not have to sustain, was handed to me not from the fists of opponent, but from the mis-economy of my attacks. Putting full energy into attacks that were landing against defense, unnecessary movement and poor technique lead to me using up so much energy that I lost a huge lead that I generated and lost the fight. Sure, it was a very amateur mistake from an amateur fighter, but I was so much better than my opponent even then, that to lose because of that demonstrated just how bad it can be when motion is wasted. Wasted motion has the added side effect of not only using up lots of energy, but it is slower. It's the different between a straight line punch and a looping punch. One is going to get to your opponent a lot faster.
Remember these five points, and you will be in total control of your next fight.