My favorite fights of 2011
---
The Following is a Member Posted Promoted to the Front Page:
The list below is in no way a comprehensive list of the best fights of 2011, and I realize that 2012 is well underway already, but I've been busy and I've always said "better late than never." Most of these fights, in no particular order, all had something to do with Ohio (or Pennsylvania for you Keystone Staters), and I found them particularly entertaining. Maybe you'll even agree with me on some of these fights.
Check them out after the jump:
May 21st, Streetsboro, Ohio- NAAFS Spohn vs Hawk II- Dan Spohn vs John Hawk part 2
This fight was for the NAAFS Pro Series Light Heavyweight Title, and there was no shortage of fireworks. Both guys came out swinging and both showed that they can deliver and take a punch. Hawk came straight at Spohn, but seemed to have trouble catching on to Spohn's circling and counter-punching. When Hawk was able to corner Spohn, John delivered some serious blows, but Dan was able to escape danger and counterpunch his way to a decision victory.
This fight was like a real-life version of every fight scene in the Rocky movies; just when you think someone is going down, they counter with an even bigger shot. Both guys used this bout as a launching pad, since both next fought for Bellator. With punching power and cast-iron chins, one can only expect big things from both guys down the road.
November 19th, Hollywood, Florida- Bellator 58- Eddie Alvarez vs. Michael Chandler Jr.
I didn't catch this one live since I was in Columbus, licking my wounds from Ohio State's devastating loss to Penn State. If I don't see a fight that interests me, I try my best to stay off of the internet since I don't want the bout spoiled, but my Twitter timeline was getting bombed with reports of how fantastic the Alvarez-Chandler bout was. I couldn't wait to drive the 2 ½ hours back to Cleveland to watch it on my DVR, and I was not disappointed. Others had lauded the Hendo-Shogun Rua fight that happened on the same night as a Fight of the Year candidate, but I was honestly more impressed with Bellator's Lightweight Championship bout.
I had seen Chandler wrestle for Mizzou, and I watched him roll through the tournament until he met Pitbull Friere. I figured Pitbull would defend Chandler's takedowns and punch his face to a pulp, but I was wrong. Chandler clearly had the upper hand and I figured his streak would stop against the boxing of Eddie Alvarez.
Alvarez came out of the gate swinging and had the champ rocked right off the bat. In my mind, Chandler was probably pretty close to finishing the fight, but Alvarez hung tough and came back to take at least 1 round before Chandler rocked him and sunk in a rear naked choke. This was a back and forth fight, and it was one of those fights that I didn't want to end. Chandler's going to have some areas to sharpen before he defends his title, but this guy is young, tough, and talented right now and should be a force for years to come.
(Side note: The Ohio/PA tie in is that Eddie trains out of Philadelphia)
(* I read today that Alvarez will NOT put his name in to fight in the Season 6 Lightweight Tournament. Could he be waiting on a phone call from Zuffa?)
January 1, Las Vegas, UFC 125-Resolution, Frankie Edgar vs. Gray Maynard II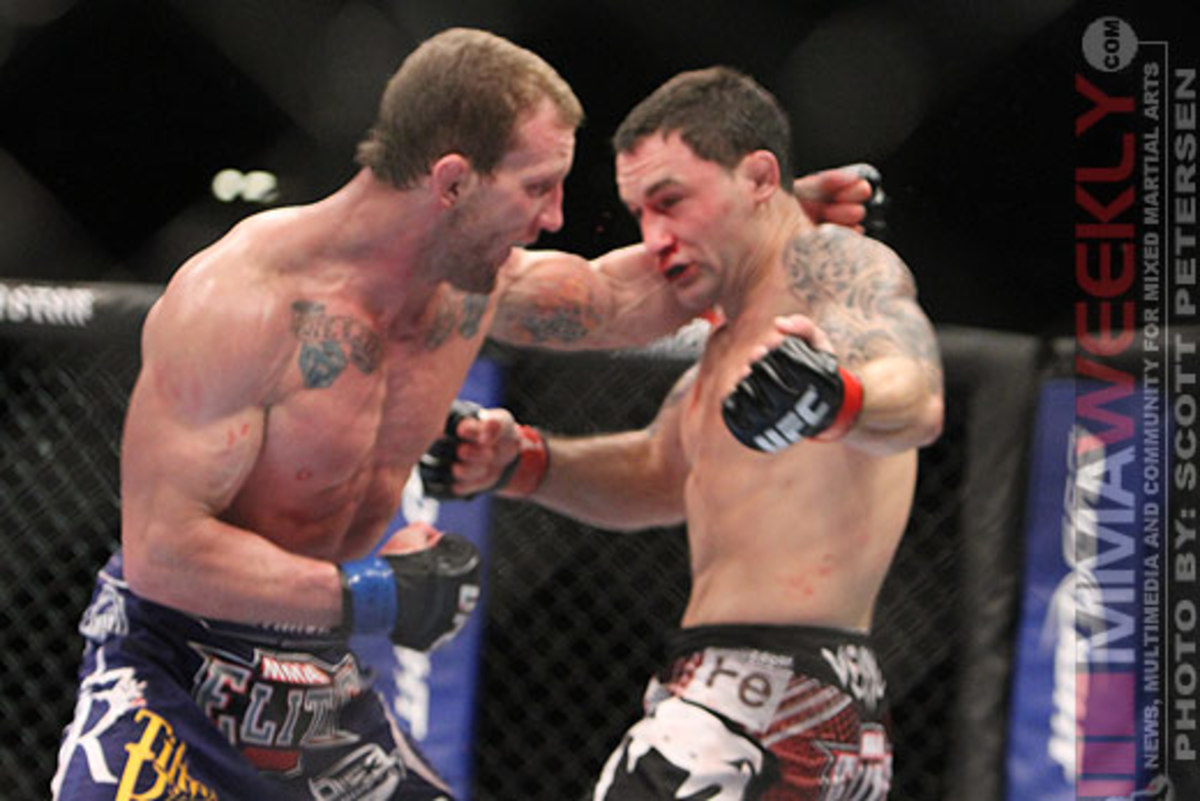 A mere 24 hours after I got married, one of the best scraps of the year took place, but of course I didn't catch this one live. Thankfully, this one has been broadcast repeatedly on UFC Unleashed, so poor schmucks like me can bask in it's glory.
Maynard was a wrestler who spent 2 years at national powerhouse Lakewood St. Edward High School (just outside of Cleveland), and his game has come a long way since his days as a wrestler. Maynard may not have the best technique, but the guy can flat-out brawl. When you mix in Edgar's outstanding hands, the rematch factor, and the UFC Lightweight belt, you know fireworks could break out at any minute.
Maynard spent the 1st round pounding the crap out of Edgar and earned a 10-8 score on all of the cards. Little by little, Edgar's head cleared and he was able to battle back and land some punches of his own. This fight ended as a split draw and became an instant classic. The much-anticipated trilogy in the series ended with Edgar avenging his only loss and giving Maynard his only career loss to date in what was also a great fight, but nothing compares to the 2nd installment.
March 5, Columbus, Ohio, Strikeforce Feijao vs. Henderson- Rafael "Feijao" Cavalcante vs. Dan Henderson
This bout was the main event of my first "big-time" show, and it turned out to be the last Strikeforce card before Strikeforce was purchased by Zuffa. Henderson has always been a favorite of mine and he face relative unknown (to me at least) Strikeforce champ Feijao.
The energy at Nationwide Arena was ridiculous and fans were chanting "Hendo" throughout the prelim bouts. When Hendo came out to the cage, the place exploded. Having watched a good number of Dan's fights, I had the feeling that he was just a second or two from unleashing the 2-kiloton bomb attached to his right wrist for the entire bout. A little under 2 minutes into Round 3, he finally caught Feijao with the big shot and Feijao hit the floor like a prom dress.
This bout wasn't particularly notable since we've since seen what Strikeforce gold amounts to, but it was a great moment for me.
July 2, Las Vegas, UFC 132: Cruz vs. Faber- Dominick Cruz vs. Urijah Faber II
This fight doesn't tie into Ohio or Pennsylvania at all (unless you really dig into it, which I won't, but comment below if you can think of something), but I really like both fighters. Cruz has this unpredictable movement and he has a knack for making his opponents off balance in the cage. Cruz has wrestling, boxing, and passable ground grappling.
This fight was even more intriguing since both guys legitimately don't like one another. Both guys had the other rocked at points throughout the fight, and the pace was ridiculous. Until the UFC absorbed the WEC, I never really understood how entertaining the little guys could be and now I'm hooked.
The great news is that Faber is working his way back to earning another crack at the champ, so we may see a 3rd fight in the series. In the words of Johnny Drama…"Victoryyyyyyyyy!"
Honorable Mention: Any bout that features Kevin Rothacker.
Kevin fights for the NAAFS and he is the most entertaining guy I think I've ever seen. He doesn't have size, speed, strength, or world-class technique. The plus side is that Kevin has heart, a chin that could survive the asteroid from Armageddon, and a bottomless gas tank. His fights are more or less brawls and he typically comes out on top. For selfish reasons, I look forward to seeing Kevin fight several times in 2012 and butt heads with anybody crazy enough to step into the cage with him.
Fights I didn't see in 2011, but really wanted to:
Isaiah Chapman vs. Cody Garbrandt
The 2 dominant forces in the NAAFS Amateur 135 lb division seemed destined to meet at Night of Champions, but it just wasn't to be. Cody was injured, derailing the hype train. There was talk of a boxing match between the two to tide fans over, but that never came to fruition either. Now that Cody is back to training, I want this bout to happen and would mediate for both sides to make it happen. I'd even let them fight in my living room, as long as they didn't bleed on the carpet because my wife would have a coronary. Rumor has it, Chapman is looking at his options of going pro, so this one may not happen, but it would be a dream matchup.
Travis "The Terror" Clark vs. Forrest "The Meat Cleaver" Petz
I was super-excited to see this one go down this year in the NAAFS, but Clark injured his knee the week of the fight and had to pull out to have surgery. I actually broke the news to Petz after calling Travis for an interview and finding out for myself. Clark is a rising star with big things on the radar. Petz is a multiple time UFC veteran and goes into the cage like a bull in a china shop. This would have been Petz' first bout at 185 (up from 170), and Clark would have been a great test. Clark has been rumored to be in talks with Strikeforce, and Petz has got to be on the UFC's short list of fighters to bring in, so a win for either could be humongous. Travis, get well soon so we can see this one come about.