---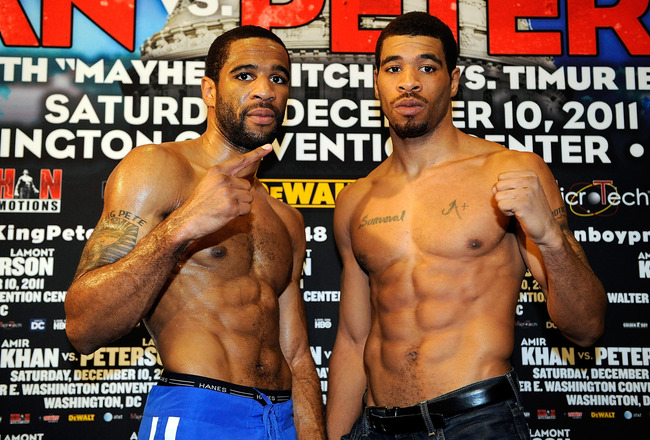 Amir Khan heads to the nation's capital to take on Lamont Peterson tonight in what is reportedly Khan's last fight at 140lbs. The results and play by play will be posted every 2-3 rounds.
Check them out after the jump:
If you didn't get the chance to watch UFC 140 tonight, never fear as always we got your back. I will be posting the results two at a time (give or take) throughout the night. Don't forget Amir Khan is fighting tonight too and you can get those results here as well:
Check out the play by play,results and GIFS after the jump:
Dana White heads back to the Canadian show which recently featured Chael Sonnen storming off in disgust. Tito Ortiz wheres sunglasses indoors and doesn't like Ariel Helwani. Twitter works in mysterious ways and Jon Jones doesn't shake hands. 8.5/10
Wikipedia gives a nice description of Jerome:

Jérôme "Geronimo" Le Banner (born 26 December 1972), is a French kickboxer and K-1 superstar, famous for his aggressive fighting style and knockout power.

He is a legend in the K-1 sport and is still considered to be the best fighter to never win the K-1 World Grand Prix Title. He has knocked out top ranked fighters such as, Peter Aerts, Ernesto Hoost, Francisco Filho, Mike Bernardo and holds other notable wins over Remy Bonjasky and Mark Hunt. He also holds an MMA victory over middleweight Yoshihiro Akiyama.
Lyoto Machida (17-2) is a Japanese-Brazilian Mixed Martial Arts fighter who competes in the UFC Light Heavyweight division. A former UFC Light Heavyweight champion, Machida is known for his elusive style and Shotokan Karate background. Machida originally started training in Karate when he was 3 years old, and he also became involved in the sports of Sumo and Brazilian Jiu-Jitsu when he entered his teenage years. He began his MMA career in 2003, and actually defeated Stephan Bonnar by Tko in his 2nd MMA fight. Currently holding a record of 17-2, Lyoto has fought a whos who of the MMA world, including: Mauricio Rua (2x), Tito Ortiz, Rashad Evans, Randy Couture, Rich Franklin, BJ Penn, and Sokudjou. Scheduled to face UFC Light Heavyweight champion Jon Jones this Saturday at UFC 140, it will be interesting to see how "The Dragon's" style and footwork match up against the unorthodox approach of the current champion.
Check out highlights after the jump: